"Conversational AI Voice Bot" refers to voice technology, similar to chatbot, by which customers can talk to a virtual agent by calling a contact center. This technology uses large amounts of data, machine learning and has the ability to understand natural language to ensure customer experience of talking as if to a real person and speech and text recognition in any supported language.
In this increasingly complex, interconnected world, the contact center seeks to become a central point where interactions involving support, sales, debt collection, conflict resolution, education and data collection will take place. In their new role, contact centers will evolve and will have to address far more complex issues, thus bearing more responsibility. Although a wide range of technologies – such as advanced analytics, business automation, bots, identification, etc. will be used to increase work efficiency and improve customer experience, employees will still have to handle the most complicated and emotional issues.
The range of skills that contact center agents will be required to possess will also expand and change. At the same time, companies will have to face new demands of the next generation of employees who are unwilling to work long hours in centralized systems. In order to recruit and retain the best quality workforce on the market, companies will have to identify the needs of these workers so that a company can be regarded as a desirable employer. On the other hand, new generations of customers expect to have a uniform experience regardless of the channel through which they communicate with you. In other words, customers expect agents to have all the information about them and their previous interactions with your brand regardless of whether they call the contact center, chat on your site or write you an email.
Natural Language Understanding
According to Gartner's definition, natural language understanding (NLU) refers to "computer comprehension of the structure and meaning of human language / speech (e.g. Serbian, English, Spanish, Japanese), allowing customers to communicate with applications using natural sentences". Namely, NLU is artificial intelligence that uses software to interpret text or voice and any kind of unstructured data. The NLU can process text or voice, translate it into computer language, and produce output in a language that people can understand.
Thanks to natural language understanding (NLU) and machine learning, applications can automatically analyze data in just a few seconds, thus allowing companies to achieve significant savings in the time required to perform certain tasks. The so-called Augmented Agents are your contact center employees who use artificial intelligence, robotic process automation and other modern tools to access a larger database, aimed at increasing productivity and effectiveness.
How Does NLU Function in Practice?
In the video, you could hear how the technology of understanding natural language in Serbian works. By using the Omilia NLU solution, you have the option of a virtual contact center agent and complete language recognition and understanding (including Serbian) to obtain accurate and fast answers after the customer calls your contact center.
Where is Omilia in the Gartner® Magic Quadrant ™?
Omilia, the company that offers the NLU solution, is also the leader in this Magic Quadrant™ . The Gartner® Report can be downloaded from this link.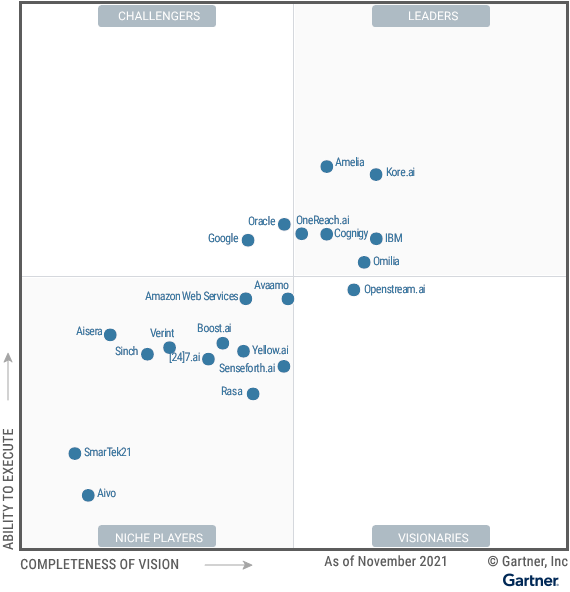 If you want us to give you a presentation of this solution and demonstrate on a concrete example how NLU can significantly increase the efficiency of your contact center at the same time reducing operating costs, please contact us and schedule a meeting with our team.
Contact us